meta data for this page
Administration of M-Files Process Maps
This page lists answers to some typical questions we received from IT Administrators concerning the handling of M-Files Process Maps.
Why is there a "Process Maps View" rolled into the main list of views?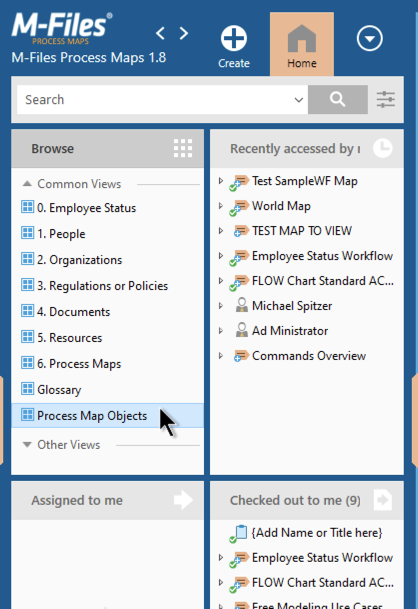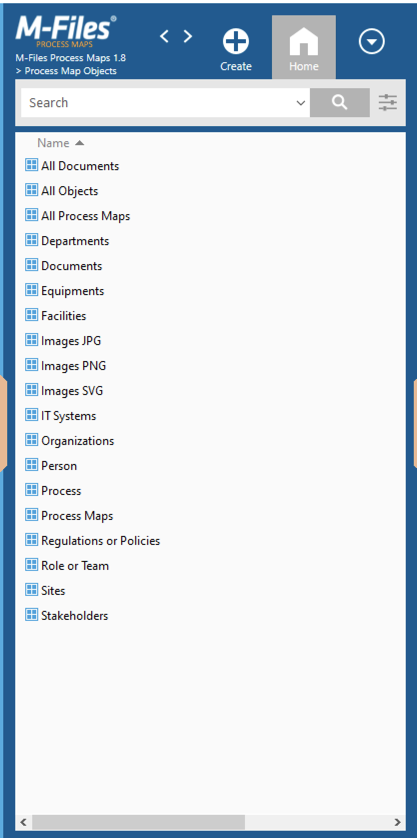 When you freshly install M-Files Process Maps into a vault, the system automatically creates a view called "Process Maps Objects". This view contains pre-defined views:
All Documents

All Objects

All Process Maps

Images JPG

Images PNG

Images SVG
These predefined views can be changed, deleted or renamed as you like.
Where are these views used?
These views are shown in the Designer in the left-hand pane by selecting the 'FILTER'

Symbol:


Filter criteria can be selected
Certainly, the system does not load thousands of objects or documents. It only provides a limited hit list (250 elements per query per default). There is also the possibility to enter specified search criteria. With drag & drop, you can easily put the results onto the canvas.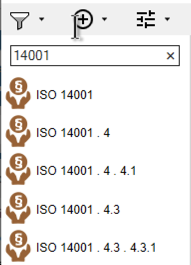 …here '14001' returns some rules and regulations.
TIP: You can create your own sub-views and define queries any way you like. This speeds-up the process, to find the right objects for drag & drop. The above screenshot e.g. shows sub-views for DEPARTMENTS, EQUIPMENTS, FACILITIES, IT-SYSTEMS, PERSON, ORGANIZATION, SITES etc… change it as you like.
Is it possible to delete this view? Can it be renamed or put elsewhere?
It is possible to delete this view, but it will be re-created with the next installation of M-Files Process Maps. Your Administrator can move the view elsewhere if you do not like it to appear in such a prominent position. Please use the configuration entry MapObjectsView to point to a different location.